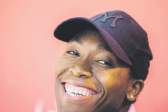 Caster Semenya, a top scorer, has undeniably rejected the list of finalists in the International Athletics Association (IAAF).
Semenya was almost a flawless season despite the riskiness by expanding its range by including the 400m sprint on its schedule in major championships for the first time.
He opened his international campaign as the only woman who earned individual events in the two gold medals on the Commonwealth racing track and won the 800 million and 1,500 million finals in the Australian Gold Coast in April and continued the 400 million and 800 million copies at the African Championships in Asaba in August.
The 27-year-old athlete closed his season by earning three medals in the Iraq Continental Cup in Ostrava and defending his 800 million crown in the IAAF Diamond League.
Semenya, who also won the 800-meter event for the third consecutive year, exceeded the world's rankings by over 800 meters (1: 54.25) and 1 000 meters (2: 30.70).
Although acknowledged for his efforts with three trophies at the recent SA Sport Awards, Semenya was, however, able to challenge the IAAF and its members in the upcoming court battle to try to get the new sex rules of the global body to crash.
When the unresolved issue that gave the IAAF public image of a significant knock-on, Semenya did not receive sufficient support from the organization or its members, which was crucial to the opportunity of raising the prestigious confession.
During the third voting process, only 25% of the vote was voted for the women's athletes of the world for the year, when the IAAF Council and the federal members were 75% of the decision.
In Semenya's absence, the list of five finalists was featured by British sprinter Dina Asher-Smith, Kenya's Beatrice Chepkoech, a varied Colombian jumper Caterine Ibarguen, the Bahama Speedway Shaunae Miller-Uibo and Belgian heptathlete Nafi Thiam.
Get more sport in your own way, download Citizen's app for iOS and Android.