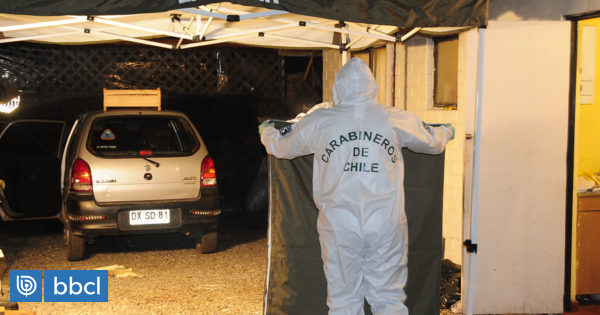 The feminine number 39 in Chile in 2018 was recorded early on Saturday at Villa Santa Amalia de Lontúsa in the municipality of Molina, which is the third type of crime in the Maule region.
According to the first predecessors, Juan Arturo Gallegos Ganga, 38, would have killed his former wife Rita Machuca Ramírez 35, despite the current injunction that prevents men from approaching women, years after family violence.
Despite the legal order, Juan Arturo Gallegos continued to harass marriage and small daughters (5 and 13 years). So much so that last December 8 was arrested for the sake of family violence, revealing the risk that Rita Machuca and the girls were.
At dawn on Saturday, the neighbors once heard rumors of girls asking for help, so they enrolled in the Carabinerose who came to find a woman's body and a man after attempting suicide.
The prosecutor of Molina Gonzalo Lanza left at noon to the welfare center and Curico's, María Alejandra Orellana, the jury and Esteban Arévalo's criminal lawyer.
There was a detention hearing of the Prison Tribunal where the current state of the accused was resumed for three days, waiting for diligence, expert reports and human recovery, which is not a vital risk.
Offense History
Sara Rivera, representing the non-governmental organization "the seventh area without insider violence," appeared at the outskirts of the medical center, saying that this new case "is a sample, the security protocols for victims of domestic violence are poorly implemented, and they will not give the results. Here is an example. "
Andrea Obrador, woman and gender equality at Seremi Maule, shocked this fact.
"It is the third case we have in the region and in 39 countrieswhich tells us that we must continue to work on this issue so that we can end domestic violence and violence against women by ending these cases affecting society as a whole, "he said.
The fact, as has been explained by qualified sources, is that the prisoner had been officially certified for domestic violence injuries a few weeks ago when the court ordered the victim to approach the prohibition.
Still, according to eyewitnesses, a woman went to the Molina Prosecution Office last Monday to withdraw the complaint and pointed out that her entire story was a lie. However, the precautionary measures remained unchanged even though the victim had continued to deal with the charges.
This article describes the ongoing legal process
It is possible that payments will be rejected at the end of the study, and for what reason The defendant should not be blamed until the right is said against him.
(Article 04 of the Criminal Procedure Code)
Violence against women
If you are a victim or witness of violence against women, judge him 149 Carabineros or receive guidance 800 104 008 Sernamegist