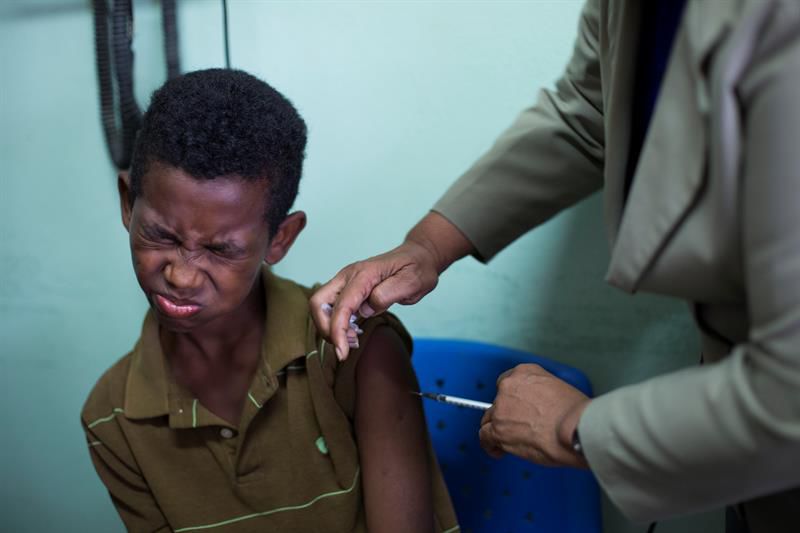 Every 20 seconds in the world, the child dies due to illnesses that could have been prevented by vaccination, so it is important to know and be aware of the importance of protecting vaccines, some experts said on Friday.
"This is a very complicated problem, as people in the 21st century are still afraid that vaccines will have side effects and that the groups who continue to vaccinate continue to distort", Dr. Antonio Luévanos told Efe.
The President of the Pediatric Infectious Diseases Association of Mexico stated that annual vaccines prevent the deaths of around 2.5 million children worldwide; However, there is still a lot to be done to protect this sector of the population, which is one of the most vulnerable.
Luévanos pointed out that 500,000 deaths per year could be prevented if the number of people were vaccinated and that complications of acute respiratory infections that often lead to death are most likely to be preventable.
"Pneumococcal virus, which we are practically all people, is one of the most important concerns because this bacterium causes acute infections in the respiratory tract, such as pneumonia, which is the leading cause of death in the world," he pointed out.
He explained that in Mexico alone in 2017 pneumonia affected about 130,000 Mexicans, 56% of whom responded with adults under the age of 4 and over 65.
Pediatrician National Institute of Pediatric Infectious Disease Specialist Marte Hernández Porras explained that pneumonia is a bacterial pneumonia that may be inappropriate in any life and life and is deadly to more than 65 years of age, under 5 years of age, pregnant, diabetic, and hypotensive .
"The good news is that it is a disease that can be blocked by the vaccine, the most important thing is that people know and are aware of it in order to avoid complications if the condition occurs," says an expert.
Meanwhile, Secretary of the Mexican Vaccinology Association (AMV) Rodrigo Romero said that extending immunization is indispensable for achieving the goals of sustainable development set by the World Health Organization in 2030.
"Vaccines inhibit not only suffering and premature death but also enable national priorities such as education and economic development," the expert said.
The purpose of the vaccine campaign was to increase the population's awareness of vaccination not only in addition to this, but also in many infectious diseases, AMV and the Children's and Youth Health Center.
"People need to know that vaccines are safe, that all of them are subjected to rigorous tests at various stages of different clinical trials, and they are still evaluated as they go on the market," Romero explained.
The aim is to spread the benefits of vaccination on websites and online meetings to promote healthier Mexico.
"One of the biggest challenges is the lack of vaccine, so we decided to develop this initiative," he explained.
He added that this is to help instructors and doctors to access the child's vaccination program and connect parents to the health of their children by providing reliable, timely and up-to-date information and eliminating false beliefs.
"We must combat vaccination programs, and the only way to promote people's information," the expert said.
EFE