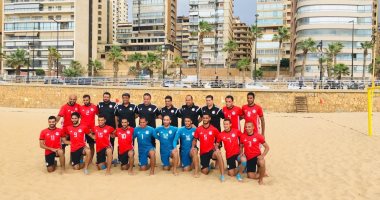 Egypt's beach football team led by Ahmed Abdel Razek will meet in Brazil on 14.15 today in the second round of Emirates Cup Pharaohs.
The beach team won the UAE 3-1 at Emirates Cup International's first games and painted goals by Ahmed Shehhat, Haytham Atef and Mustafa Ali.
Ahmed Kamal, Chief of Administration of Walid Morsour, Physical Therapist of Abbas Hassane, Mahmoud Maher Mustafa Ahmed, Mostafa Samir, Mustafa Ali, Ahmed Shehat, Haitham Atef, Ahmed Abdel Razek, Mustafa Lotfy Most Common Coach, Yasser Abdul Khaliq, Karim Sayed, Abdel Rahman Hassan, Mohamed Abdel Nabi, Hussein Taha and Hassan Mohammed.
Egypt is scheduled to meet Spain on Thursday at 3.30.