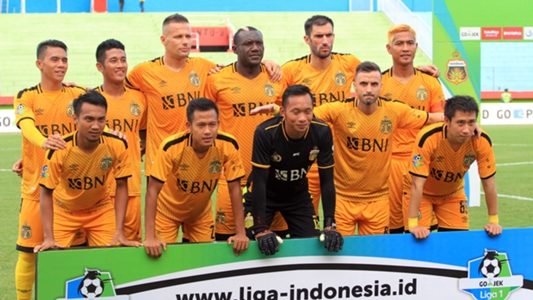 Match results: Bhayangkara FC 2-0 Persipura Jayapura
Despite the winnings, Bhayangkara FC is ranked fourth.
Bhayangkara FC managed to pick up three points from Persipura Jayapura in 2018 league 1. Guardian won one goal without a reply at PTIK Stadium, southern Jakarta, on Monday (11/19).
Although the victory did not change Bhayangkara FC's position in the matches. The defending champion is fourth-quarter 49 points, while Persipura is ranked 13th with 41 points.
These results will also make Bhayangkara FC's equal Persian Jakarta record this season. Both teams have successfully lost the Persipura home and away matches.
The first round
When the host Bhayangkara FC immediately began an attack on the Persipura defense line. Several opportunities were created that still did not produce the goal.
Persipura reassures Bhayangkara FC's potential. Black Pearl looks more and more awaiting the ball and then launches a counterattack.
Boaz Salo, who has not been properly remedied for injury, is still in the match. Sometimes Boaz makes the back of Bhayangkara FC difficult by his individual action.
Towards the end of the first half of the two teams, a more intense attack. However, until the referee blows the break sign, there is no goal.
Second half
After the breaks, Bhayangkara FC made a change. Muhammad Fatchu Rochman came in for Sani Rizki Fauzi, who seemed less optimally in the first round.
Bhayangkara FC's model of the game is more based on ship width and hull ball. This step is done because Simon McMenemy's upbringing has difficulty entering the Persipura midfield when using balloons.
Continue to attack eventually the long-awaited goal will also come. Alsan Sanda managed to shake off his name as a scoreboard for 74 minutes using the reboud ball.
Nine minutes before the end of the match, Bhayangkara FC managed to double its position through Herman Dzumafo on the spot. The 2-0 defending champions will continue until it finishes.
Player arrangement
Bhayangkara FC
coach: Simon McMenemy
1 Wahyu Tri Nugroho; 33 Dany Saputra, 27 Indra Kahfi, 17 Alsan Sanda, 10 Jajang Mulyana; 18 Adam Alis, 89 Lee Yu Jun, 7 Vendry Mofu, 20 Sani Rizki Fauzi, 23 Wahyu Subo Seto; 99 Herman Dzumafo Epandi
funds: 38 Indra Adi Nugraha, 5 Muhammad Fatchu Rochman, 3 Vladimir Vujovic, 15 Maldini Pali, 98 Reksa Maulana, 29 Elio Martins, 24 Marinus Wanewar
Persipura Jayapura
coach: Oswaldo Lessa Filho
27 Dede Sulaiman; 82 Valentino Telaubun, 22 Marcio Nascimento, 4 Ricardo Salampessy, 21 Yustinus Pae; 32 Muhammad Tahir, 6 Elisa Yahya Basna, 13 Ian Louis Kabes, 11 Imanuel Wanggai; 86 Boaz Solossa, 33 Gunansar Papua Mandowen
funds: 1 Fitrul Dwi Rustapa, 14 Boas Atururi, 44 Yohanis Tjoe, 17 Marcel Alexander Kararbo, 46 ​​Todd Rivaldo Ferre, 20 Addison Alves, 7 Ronaldo Wanma
The article goes on below