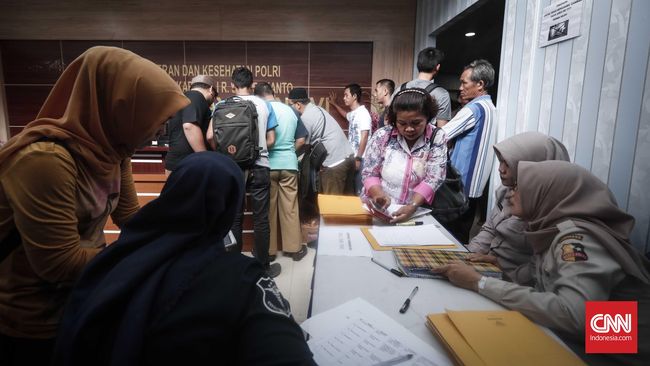 Jakarta, CNN Indonesia team Disaster Victim Detection (DVI) The national police re-identified 20 aircraft victims Lion Air JT-610. The total number of victims found on Thursday (11/8) was 71.
This figure has reached half the number of victims in a manifesto of 189 people.
"Today's DVI conciliation meeting has identified 20 Lions in the airline," said Head of Said Sukanto Clinic, Rapporteur General Musyafak Musyafak Polri Said Sukanto Hospital, Kramatjati, Jakarta.
Musyafak explained that the body of 20 victims was identified by adapting family owned and postmortem (PM) antemortem (AM) data to organs.
"Once adopted, it turns out to be appropriate," he said.
To date, the remaining DNA totaled 609 samples. The data correspond to the verified antemortem (AM).
Musyafak ensured that the victim identification process was still under way.
"We still recognize," he closed.
At the same time, the Vice President of the DVI National Police Director Drg. Triawan Marsudi ensures that the family gets psychological help while waiting for the victim.
"Other activities are psychological help for up to 173 families, which is a concern," Triawan said.
Basarnat rescinded the application deadline for the Lion Air JT-610's victims for three days on Saturday, November 10th.
To date, the Basarnas team has collected 186 bags of corpses and transferred to the DVI team. This amount does not mean that the number of bodies seems real.
The term body of the bag refers to the SAR packet finding packet, which does not refer to the number of victims. One bag of the body can be a piece that is combined in one bag.
Although the search function was terminated, the DVI team announced that it would continue to detect.
(ctr / Ugo)