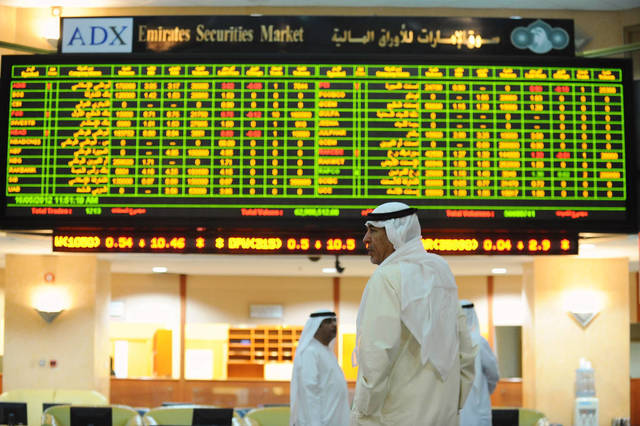 The Gulf stock market closed higher on Monday, with the Abu Dhabi index at its best in more than nine months, due to shares of First Abu Dhabi Bank, the largest bank in the United Arab Emirates.
The Abu Dhabi index rose about 4 percent. Since the beginning of the year, the index has risen in all but two sessions.
First, Abu Dhabi Bank was the best performer in the benchmark, jumping nearly 8 percent. Another bank, Abu Dhabi Commercial Bank, rose about five percent, according to Reuters.
The Abu Dhabi Ministry of Finance announced a supply chain financing initiative worth DKK 6 billion ($ 1.63 billion) to support a number of sectors, a major initiative in its commitment to support small and medium-sized enterprises.
The first phase of the initiative, in collaboration with the national health insurance company "Daman" and First Abu Dhabi Bank, aims to provide liquidity to healthcare small and medium-sized enterprises.
The main index of the Dubai Stock Exchange rose 1.2% due to a rise of 1.5% for Emaar Properties and 0.9% for Emirates NBD, the largest bank in the emirate.
In Saudi Arabia, the benchmark index rose 0.6 percent and the Saudi Telecom Company rose 5.4 percent, becoming the best performer.
Financial stocks also supported profits: Riyad Bank and Samba Financial Group rose 1.9 percent and Samba Financial Group, respectively.
On the other hand, three sources told Reuters that Saudi Basic Industries Corporation (SABIC) has appointed Al-Ahly Capital to advise on the possible listing of a specialty chemicals unit, which could be worth hundreds of millions of dollars.
In Qatar, the main index closed unchanged as Qatar Islamic Bank's losses of 1.8% after closing offset the effects of Industries Qatar's 1.3% rise.
The Islamic Bank of Qatar reported a net profit of 3.07 billion rials ($ 839.30 million) for fiscal year 2020, up from 3.06 billion rials in the previous year, but it reduced its 2020 dividend of 0.40 rials per share from 0.525 rials in 2019.
Outside the Gulf region, the leading stock index on the Egyptian stock exchange closed slightly higher. Eastern Tobacco Company, up 0.7 percent, was the best index.
Saudi Arabia … the index rose 0.6 percent to 8931 points.
Abu Dhabi .. The index rose 3.97 percent to 5490 points.
Dubai .. The index rose 1.2 percent to 2726 points.
Qatar .. The index rose 0.02 percent to 10,863 points.
Egypt .. The index rose 0.04% to 11,450 points.
Bahrain .. The index rose 0.1 percent to 1454 points.
Sultanate of Oman .. The index rose 0.04 percent and scored 3644 points.
Kuwait .. The index rose 0.3 percent to 6187 points.
(Dollar = 3.6578 Qatari Riyal)
Source link