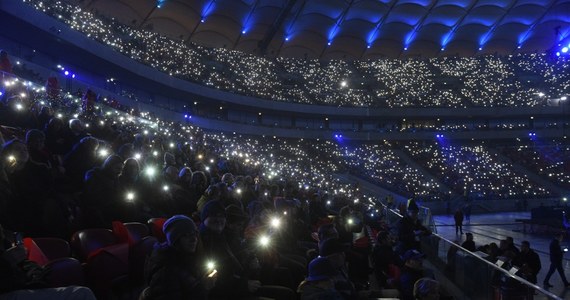 November 10 at 20.15 The special event of the PGE National Pitch began the Independence Day of Independence Day tomorrow. On stage, viewers can see, among others, Maryla Rodowicz, Marek Piekarczyk, Ewa Farna, Krzysztof Cugowski, Paweł Kukiz and Krystyna Prońko. The guests of the event are President Andrzej Duda and Prime Minister Mateusz Morawiecki.
Concert for Independence started at TVP1 at 20:15. The retransmission of TVN and Polsat is scheduled for 21:45.
See the concerts of the concert Koncert dla Niepodlegnej:
The event of PGE National launched the centenary celebration of the 100th anniversary of Polish independence. Deputy Minister of Culture of the stadium Jaroslaw Sellin 40,000 people appeared.
The TV show starts at 20.15 and at 19.30 the band warms up Maleo Reggae rockers.
PGE National's concert started Natalia Sikora From Teresa Haremzy's software song "I saw my eagle in the sky". The singer, as in the original version, makes it a cape. The song was recorded on December 12, 1981, on the eve of the War of Independence, and his word became a symbol of communist power struggle.
Legionowe's songs – "White Roses", "Wojenko, Wojenko", "Gray Infantry", "Ułyli Ułani pod okienko" and "First Brigade" – he recalled Small Janoski Army.
Warsaw's sentimental orchestra he made the immortal classic "Only Lviv". Ordonówna Hanka calls Hanka's spirit Aleksandra Kurzak with the song "Love Forgive You". The Second World War ended Andrzej Lampert sing Mieczysław Fogg's immortal hit "This Last Sunday".
"The red poppies at Monte Casino," he did Singing and dancing group "Mazowsze", poetry was presented in a special arrangement Natalia Nykiel and Teddy Furtak. BOS songs – "Warszawianka", "Children of Warsaw", "Mokotowa March", "Siekiera Motyka" and "Michnik Palace" Jan Młynarski and Warsaw Dance Combo, a Stanisława Celińska pleased with Ludwik's "Warsaw is" an unforgettable work.
The event gathered 30 artists and eight bands, and the Polish audience will hear 28 of the new arrangements during the concert. The national PGE has: Maryla Rodowicz. Natalia Sikora. Andrzej Lampert. Aleksandra Kurzak. Natalia Nykiel. Stanisława Celińska. Tulia. L.U.C.. Kamil Bednarek. Milo Kurtis. Skubas, Sławek Uniatowski. Mateusz Ziółko. Natalia Szroeder. Kasia Moś. Krystyna Prońko. Jan Pietrzak. Paweł Kukiz. Igor Herbut. Ewa Farna. Marek Piekarczyk and Damian Ukeje.
New arrangements for songs and songs have been prepared Grzegorz Urban (musical director of the concert), Adam Staba. Jan Smoczyński. Maciej Muraszko. Łukasz Bzowski. Marcin Majerczyk. Rafał Stępień. Marcin Mirowski. Michał Grymuza and Miłosz Wośko and performers during the concert.
"From the very beginning, we wanted it to be the story of 100 years of Polish history in songs, so you do not have to talk too much, but only what is needed to get artists and music been told because there is probably no universal language than music," said another conductor Piotr Cieślik.
The chairman was a confirmed guest of the Independence Concert Andrzej Duda and the first woman Agata Kornhauser-Duda, Prime Minister Mateusz Morawiecki and Deputy Prime Minister and Minister of Culture Piotr Gliński.