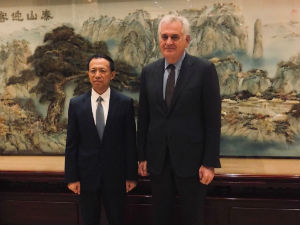 Tomislav Nikolic says that the positive experience of working with Shandong companies is a good start for the arrival of new companies from China to Serbia.
Vice President Shandong Wang Shujien said that Nikoli was an old friend of China and thanked him for his longstanding commitment to strengthening relations between China and Serbia.
During the talks with Nikoliq, Shujien expressed his interest in continuing China's cooperation with Serbia on infrastructure projects and common agricultural production with the rapidly expanding Chinese market, the National Council said in a statement.
Shandong Province has several companies on the Serbian market, including Shandong Haj Spid, a tire manufacturer, Shandong Linglong, and Hisense, a manufacturer of home appliances.
Source link